I have only met her once in 'real life' at Britmums, but Kerry (from multiple mummy) is a very inspirational lady!  When I met her, we spoke for all of a minute, but she was so friendly and so warm!
I have read her blog 'Multiple Mummy' for quite a while and have admired her family, her posts and her from afar!!
Unfortunately the family have been hit by tragedy when Kerry suffered a haemorrhage in the brain following a ruptured aneurysm . She is still fighting hard and we are lucky to be able to read her updates due to her lovely husband maintaining her blog.
Many bloggers want to help but don't know how, New Mum Online had an awesome idea! Joining together for the #healingofkerry .  On Saturday 24th November 2012 at 22:00 bloggers, tweeters and more across cyberspace will be joining together with a prayer, a meditation, a positive thought, anything to wish for the healing of Kerry.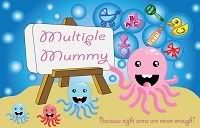 This is my support for Kerry's Healing Corner of the world wide web. If you can spare blog space for a post, a tweet using #healingforkerry or a simple thought, Please do! Read more on New Mum Online
Get well soon Kerry, I would love to see you again soon and have more than a minute to chat!